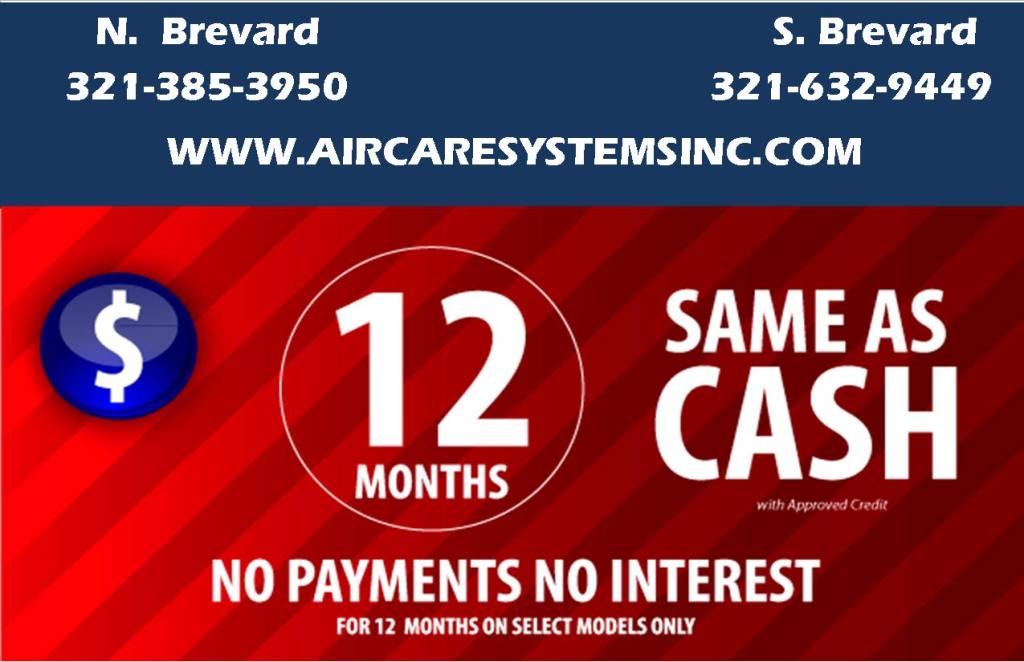 Welcome to our Website (Schedule a Service Call or Consult click here)

We've grown a lot since we opened our doors in Titusville back in 1986. Today, we have a fleet of trucks with highly skilled, factory trained, N.A.T.E. certified technicians able to meet your comfort needs-every season of the year. Our flawless B.B.B. (Better Business Bureau) record is your assurance you will receive quality products and dependable service whenever you need us. From recommending the right system to arranging convenient financing. Air Care Systems, Inc. caters to both residential and commercial clients because "We Care About the Air You Breathe."
Air Care Systems, Inc. Service Area/Hours

Air Care Systems, Inc. is a State Licensed air conditioning contractor that provides full service, maintenance and installations to commercial and residential customers throughout Brevard, Orange, Seminole, Volusia and Indian River Counties.

Our office hours are Monday-Friday, 8am- 5pm. IF an emergency should arise you can always reach us at (321) 385-3950, Ext. 226 or Option 7.

Licensed and Insured CAC057155



We are a family owned and operated full service air conditioning company, providing air conditioning installation, repairs and maintenance for our residential and commercial customers. Air Care Systems, Inc. offers flat rate billing and will provide you with the most cost effective air conditioning installation, maintenance and repair.


Air Care Systems Mission Statement

Air Care Systems, Inc. is an air conditioning company that values integrity, honesty and quality. We seek to ensure a comfortable, safe and healthy office or home environment for all of our clients. We are committed to providing the highest quality of products and services possible at the most cost effective rates. Air Care Systems, Inc. vows to be a company driven by values. Our core values include:
- Do the Right Thing
- Respect Health, Life and Property
- Build Strong, Lasting Relationships
- Integrity, Reliability and Honesty
- Continuous Improvement
Air Care Systems, Inc. expresses a commitment to Excellence, Teamwork, Enthusiasm and Family Values. Air Care Systems, Inc. will meet or exceed your expectations for an air conditioning company. Air Care Systems, Inc. also provides duct and building performance testing and we are an FPL and City Gas Participating Independent Contractor (PIC).

We Service All Makes and Models

Air Care Systems, Inc. is a factory authorized Mitsubishi, Maytag, Frigidaire, Carrier/Bryant, Trane and Broan dealer. However, we sell and service ALL models of air conditioners, heat pumps, gas furnaces, etc. When you are in need of a new air conditioning system, select an air conditioning company you can count on to assist you with choosing the right unit for your home. Air Care Systems, Inc. offers energy efficient Mitsubishi multi-split systems that will save you money on your energy bill. In addition, Mitsubishi systems are quiet and high tech, allowing you to control the temperature of each zone independently of others in the home. Ask about the other energy efficient HVAC systems we sell and service, as well.

Our Staff

All of our technicians are uniformed and badged, City-Multi-certified, I.Q. Drive, EPA certified and hold multiple N.A.T.E certifications. We adhere to a drug free workplace and all employees are cleared with extensive background checks. Our technicians are highly qualified and professional. Each technician has been thoroughly vetted for your safety and assurance.